This is a list of rules and guidelines that all users must follow.
General
Be respectful to every user on the wiki, including the Administrators.
Bullying is not allowed on the wiki. If you feel as if you are being bullied, please contact one of the Administrators about it.

Users found to bully others, are subject to blocking.

Do not edit other user's works unless you are given permission. Doing so will result in a block.

If you are fixing any minor errors (such as coding errors), it will not result in a block.

Pornographic content are prohibited. Doing this will lead to deletion of the page and the user will be blocked.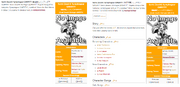 Do not create pages that have no content at all (eg. creating a page with just an infobox and just one sentence.)
Warnings
When one or more policies has been violated, a warning will be given out in this order:
First warning will be a warning message for you on your message wall.
Second warning will block the user for 1 week.
Third warning warning will block the user for 1 month.
Fourth and final warning will block the user for 1 year.
Usage of Canon Content
If you are using canon content for your fanfiction, be sure to put your username in brackets at the end of the page's name like this; Hibiki Tachibana (Your Username) or Gungnir (Your Username). This will keep everything more organized and avoiding revert wars.
Canon Content Category
The category Canon Content contains content directly taken from the Main Wikia, where everyone is allowed to add their fanfiction images or content to the pages (eg. Unison patterns and Aufwachen Waveform patterns).
Images
General Rules
Pornographic images or images that are offensive are prohibited. Doing so will result in immediate deletion of the image, and the uploader will be blocked without warning.
Uploading Pictures
Use Special:Upload page to upload your images.
When uploading a picture, please make sure to have a proper filename. Do not enter a randomized name.

Names such as rg8eruihaf.jpg or 565649000.png will be deleted.
Once uploaded, you cannot rename the file, so it must be renamed before uploading it.

Inappropriately named or unused images can and will be either renamed or deleted without warning.