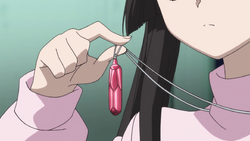 Relics (聖遺物, Sēibutsu?), also referred to as Sacrists, are items spoken of in myths of many races. Excavated around the world, they are the core and function of a Symphogear.
Known Relics
Symphogear Relics
Non-Symphogear Relics
Dáinsleif

: A relic whose fragments were used by Elfnein to create the Ignite Module for the Symphogear.

Gjallarhorn

: A complete relic that has the power to connect to parallel worlds.
Vijaya: A complete sacred relic.

Book of Life

: A complete relic that has the power to bring people back to life.

Daidarabotchi

: Similar to the

Nephilim

and

Bergelmir

, this relic is a living creature.
Duorelic
A Duorelic (デュオレリック, Deyuorerikku?) is an advanced form of Mental Imagery that is unlocked by fusing two types of relics into a Gear. It is also possible to fuse two Symphogear relics into a duorelic, but that process is more difficult to handle as the user needs to have enough compatibility with both of the Gears.
Known Dourelics
Gallery